Let's imagine for a moment that you're looking to send out a new direct mail campaign. You want to go big and decide to create a piece that has all the bells and whistles. A QR Code, foil lettering, personalization and more!
But you get to the moment when you're determining who needs to receive this campaign. Your company is selling the latest baby gear and you need to define who your ideal target audience is. You dive into research and find out it's… millennials. 
Before you scrap the whole campaign, read this! Millennials may be the next big audience that you can reach through direct mail and we'll tell you why.
Who Are Millennials?
Millennials aren't who you may think they are. This generation has gotten older and are well into or starting their adult lives. The Millennial generation is now anyone born between the years of 1977 and 1995 making the age range 26 – 44 years old. What's even more interesting is according to Gallup Analysis, 41% of Millennials are married with children. This generation is much into the trials and tribulations of adulthood but also the great milestones as well. They have adult concerns and priorities and if you're going to market to them, it needs to reflect that.
Since this generation is moving into it's top spending years, they will reshape the economy and change the way you sell. It's important to study their habits, wants, and needs. They're a unique generation who still remembers what it was like to receive a handwritten letter in the mail from a pen pal or a card during the holidays. Give them the nostalgia they've been longing for with direct mail.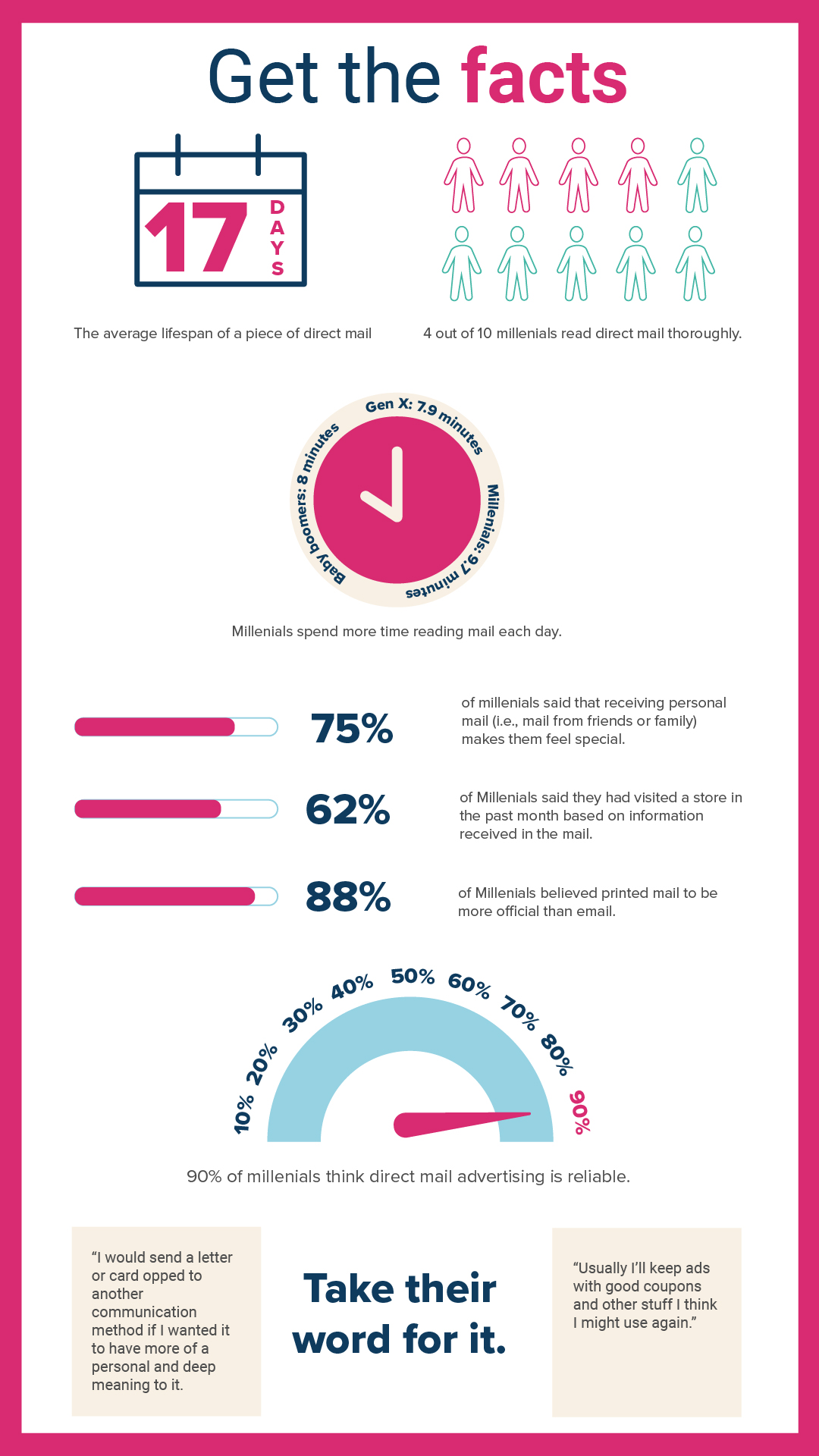 What Do They Want?
Market research can often tell us a lot about what a demographic wants. But the good thing about the Millennial generation is that they don't hold back. You may be shocked to hear that the millennial generation enjoys direct mail, despite the fact that they've grown up in a digital age. In a study by the USPS, convenience and immediacy are key opportunities when it comes to doing business with Millennials. But, this can be true for any business looking to sell or market to this generation. Millennials also like the convenience of self service. They believe that it eases the burden of most tasks, so consider this in your marketing. 
And finally, personalization is a home run when it comes to marketing to Millennials. Use their name, know what they like, and how they live. This generation is more likely to interact with a company who speaks directly to them and offers a personalized service. Want to take it a step further? Keep them coming back for life with a loyalty reward program.