We know the mail works.
It's in our name.
direct mail isn't dead.
the old-school way it's always
been done is.
Traditional direct mail hasn't kept pace with the marketing world:
If you're not exactly stoked to recommend direct mail to your agency's clients, we get it.

But we've found an easier, more efficent way to create and manage direct mail campaigns that might jive better with the way you do things.
Wonderful employees staff this well run company. They make it very clear and easy to get started and their prices are on point. The end result has always been excellent in my opinion and I look forward to continue working with The Mailworks.
— Daniel
Mailworks is my secret weapon. They are my trusted development partner. Their fast expert service makes all of our fundraising direct mail pieces super simple and effective.
— Ellen
No other type of marketing gives us the return on investment that direct mail does, and The Mailworks is a big part of that equation.
— Scott
The Mailworks provided a more than ample staff of capable employees and machinery to allow me peace of mind. They never missed a deadline, and more often than not were finished ahead of schedule! I've done pretty much every kind of mailing project imaginable in 50 plus years in the business and have not had a vendor that is willing to provide: methods more efficient, more cost effective, more creative than The Mailworks.
— Ronald
I loved the online portal. It was great to have the invoicing and proofs in one place, rather than toggling between emails. I am always collecting data for the event summaries that we make in - house, so it was the perfect place for me to go get all of the details that I needed.
— Jillian
My experience with The Mailworks and my account manager has been wonderful. They are very easy to work with and their products are exceptional. The Handwritten Direct Mail piece we did led to more phone calls and appointments than we have had with any other piece in years. I highly recommend this place for all your direct mail needs.
— Tim
The Mailworks has been a great asset to our Associates by providing easy access to their online portal. It makes the proofing and payment process more simplistic, especially in a time crunch. They are very accommodating and are a pleasure to work with.
— Lindsey
By your side through
every client campaign.
You know your clients. We know direct mail. 
Our in-house experts will become an extension of your team, supercharging your agency expertise with our direct mail strategic know-how. 
We'll help ensure your clients get the best possible results from their direct mail campaigns — and make you look great as a marketing partner.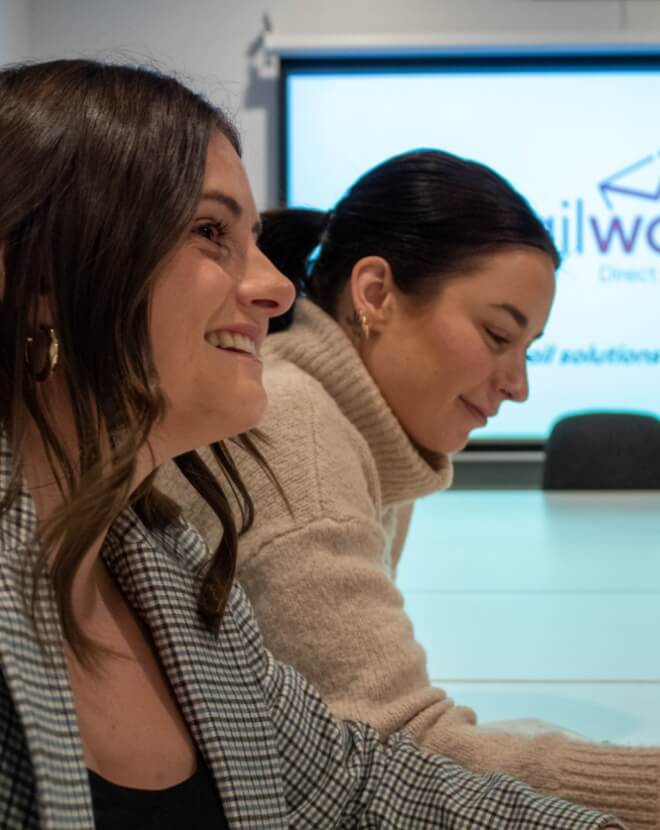 The secret sauce:




our

online portal
The Mailworks's online portal has all the tools you need to manage every client's direct mail campaigns — in one place:
WHY PARTNER WITH

THE MAILWORKS?
Our processes and technology are perfectly suited for agency partnerships, that's why. Here's how we make your job easier:
We know what we're doing
Our expert account managers can help incorporate direct mail into your clients' marketing strategies.
One portal, every client
Manage each client's mailing lists, creative, deliveries, and more in our online portal.
Transparent pricing
Keep margins high with predictable flat-rate pricing that includes print, postage, and nationwide USPS drop shipping.
List management
Build your mailing lists and targeted segments to reach drivers in your area.
One-stop-shop for direct mail
We print and mail everything from our facility in Albany, New York, no chasing unreliable vendors.
On time mailing
Our system works backward from your clients' desired delivery date to get mailings there on time every time.
Our partners in your
success

It's our job to make


yours easier.
Let's explore an agency partnership today.