The financial industry is one of the strongest, most lucrative industries in the United States. In fact, in 2018 finance and insurance represented 7.4% of overall U.S. GDP. There's never been a better time to work in the finance industry.
The flip side is that the financial industry is also ultra-competitive. That's why it's so important to get creative with your marketing strategy. Marketing is one of the best ways to differentiate yourself from other competitors and win more business.
But it can be challenging to come up with innovative new ideas to pursue. Luckily, we've got a few tricks up our sleeve. The finance industry is one of our largest client bases. In over 30 years of business, we've learned what works and what doesn't work for the financial industry.
That's why we decided to publish these 11 creative marketing ideas for the finance industry. They're perfect for marketing and financial professionals who are looking to give their business a competitive edge.
Let's get to it.
---
1. Send out thank you cards to your clients. 
Bringing on new clients isn't the only way to increase business. If your team is working with limited bandwidth, a prospecting campaign might be out of your reach. Instead, focus on what you've already got: your current customers.
A thank you card campaign targeted towards current and past clients can help to improve client retention and increase return business. Plus, you've probably already got a list of customers that includes their address.
A small postcard is the perfect way to do this cost-effectively. Not sure what to put on the thank you note? There are tons of templates online or you can use a graphic design service.
2. Host an informational webinar on a frequently inquired about topic.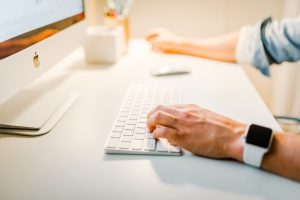 A webinar is a great way to get in front of current and potential customers. Pick a topic that customers frequently inquire about, then promote the webinar on your website, social media and email list. Seasonal topics do especially well, such as money saving tips in January and tax topics in March and April.
Make sure you require an email address in order to sign up. That way, you collect information from potential customers and know which current customers are interested in that topic. Afterwards, follow up with an email that includes a clear call-to-action.
3. Send out a prospecting campaign from a financial professional.
One of the easiest ways to create a connection with new customers is by getting personal. We recommend setting up a prospecting campaign from a specific financial professional. Print it on a personalized letter mailer, and mail it to your target demographic.
Seeing a personalized letter that is from an actual financial professional will help build a connection with your audience before you've even spoken to them. Bonus points if you make the letter conversational and personal. Maybe include a picture of the financial professional's dog, or even their favorite recipe.
Be sure to include clear contact information, including an email and direct office line so recipients can easily get a hold of you if they're interested.
Don't have a list to mail to? This list builder tool is completely free to use.
4. Send an email survey to your customer database.
Don't know where to start? Ask your customers! By finding out exactly how your current customers discovered your company, you can recreate that success going forward. Invest more into the channels that are working, and decrease reliance on the channels that aren't getting results.
A few questions that you might consider asking are: How did you discover us? What additional services would you be interested in? How likely are you to recommend us to a friend? Why did you decide to use us instead of a competitor?
Survey Monkey is a great online survey platform that you can use to get answers to any of these questions and more.
5. Offer a New Year Discount Promotion
When it comes to finances, many people have bold new goals and resolutions for the new year. Often, these relate to saving more and making better financial decisions.
To capitalize on this trend, create an enticing offer relating to personal finance. This promotion can be listed on your website, email and social media. To really drive results, you could even consider creating a direct mail campaign with a simple 6×9 Postcard.
Include a deadline on the offer to drive action.
6. Hand out stickers to clients.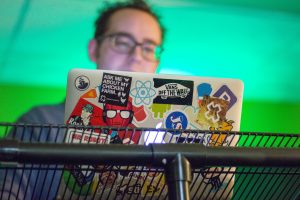 Who says stickers are only for voting day? Let's get "I just did my taxes" stickers trending in April. Because I think we could all agree that getting your taxes done deserves to be rewarded!
Regardless of what you put on them, stickers can be a funny cheeky way to get your brand out there. Because as much as we deny it, even adults love stickers.
Get creative and come up with a fun image and text. Then, get it printed on something as simple as a small 2 inch square sticker. Your clients will appreciate the effort and remember it. Who knows, they might even put it on their phone or computer.
7. Send out a monthly newsletter with updates in the finance industry.
The world is changing quickly these days, and the finance industry is no exception. Provide value to your customers with a monthly newsletter detailing applicable updates in the finance industry.
To make things easy, consider using a monthly newsletter subscription. Let's Talk Money® and Loose Change® are both great examples of fully automated solutions that are FINRA reviewed and pre-approved by many broker dealers. A physical newsletter gets more opens than emails, plus it will give clients something to hold onto that will remind them to contact you when they're ready.
8. Make your business cards stand out.
First impressions matter. And nothing makes a better first impression than a business card that stands out. Not only does it easier for people to remember your name, it also makes it more likely that people will hold onto your information.
A foil finish gives your business card a little something extra. Experiment with bold colors to really stand out. The next time you're at a conference or event, you'll feel even more confident passing out your business cards.
9. Send your clients a colorful holiday card. 
Try not to get too wrapped up in business practices to remember the importance of a personal touch. The perfect way to put yourself top of mind with your clients is with a good holiday card. Why? Well, who doesn't love a good holiday card?
They help spread a little holiday cheer, plus they seem way less sales-y to people. You can order an Invitation Mailer online for the perfect sized holiday card. Include pictures of employees to really give it a personal feel.
10. Create an infographic of a complicated financial situation.
There's nothing more frustrating than not being able to understand an important subject. Financial situations are often extremely confusing and stressful to people, so why not help them out? Create an infographic that helps explain a complicated topic in a more simplistic way.
Then, put your logo on it so when it's shared across Pinterest, LinkedIn and other social media platforms, your company builds brand recognition.
Here's 15 free infographic templates to get you started.
11. Ask your current clients for referrals.
Starting from scratch when trying to acquire new customers can often be very time-consuming. And since people are way more likely to trust someone they know, why not ask your current clients for referrals?
The perfect way to do this is by sending an email or including a small buck-slip insert in any outgoing mail you're already sending out to clients. Be sure to offer them something in return for every successful referral that they convert! $50 off a monthly bill or a small free service will do the trick.
Final Thoughts
When it comes to marketing, persistence is key. A lot of new initiatives might take some time before they take off. So instead of giving up when you don't see immediate results, be patient. Good things come with time.